Tips for Designing the Ultimate Backyard Space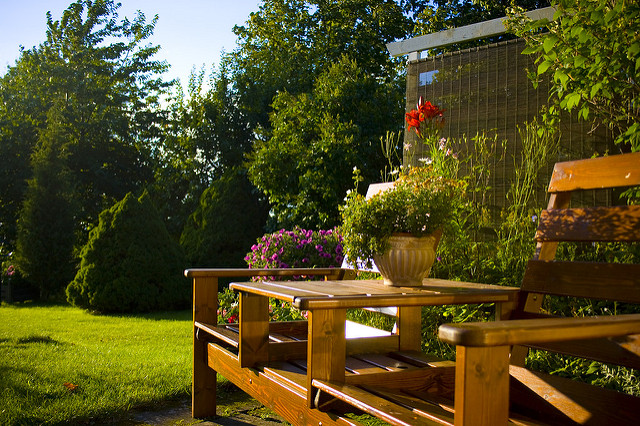 Whether you've just bought a new house or started living in a new rental or simply want to update your existing backyard, designing a great backyard space can either become a tedious task or a fun and exciting one. It's also one that can either produce great results or leave you scratching your head trying to figure out where you went wrong. Looking for great backyard designing tips? Take a look at some of the few below to get started on your dream backyard.
Tip 1: Choose your focal points
When it comes to backyard designing tips, this is easily one of the most important ones. Before you even begin to make any purchases, you need to come up with a design that illustrates your main focal points. These points are basically what parts of the yard, or objects within the backyard that you want your guests to first look at. These can be a structure of some sort, a bird feeding and bathing area or a large tree. Once you know where you would like your eyes to fall first, you'll be able to easily design around the focal points and create a yard that looks well designed.
Tip 2: Choose the right furniture
First things first, you'll want to make sure you're purchasing outdoor furniture and not pieces that are made for indoor use. This is because the material used to make and cover outdoor furniture is specifically designed to handle the elements, from water to snow to hot sun filled days. Then you'll want to make sure that you choose a design scheme that you'll love for years to come. If you're looking for some modern designs, take a look at these outdoor furniture trends to see what options are available on the market right now.
Tip 3: Plant deer resistant flowers and scrubs
Some of us don't have to worry about deer consuming all of the beautiful flowers that we just meticulously planted. For the rest of us, it's important to look for scrubs and flowers that are what the gardening community refers to as 'deer resistant'. When looking at backyard designing tips, you'll also find this one to be one of the most important. The last thing you want is to wake up one morning to find most of your plants half eaten. Unless you have a fully fenced in backyard with fence material at least 6 feet high, you'll find this to be a very common problem in deer country. Depending on where you live, rabbits may be a problem as well.
Tip 4: Decide how much time you'll have to take care of your backyard
When talking about backyard designing tips, you'll hear a lot of professionals first ask their clients how much time they have on a weekly, monthly and yearly basis to focus on the maintenance and upkeep of their backyard space. If you're one who plans on doing all or most of the maintenance yourself, you'll want to take into consideration how you want to spend your free time and how much of that free time you'll feel comfortable mowing, gardening and pruning. If you plan on hiring a grounds keeper, then this shouldn't be a concern.
If not, consider purchasing products that allow the garden to look after itself.Some of the best lawn sprinklers , for example, will have timers that you can set so the lawn will get watered automatically rather than you having to care for it yourself.
Designing a backyard space can be a fun task for the whole family and one that helps provide a creative outlet, even if you've never thought of yourself as a creative person. Though you can do whatever you like with your personal space, it is always good to first check out a few backyard designing tips to help you find a balance between the flowers, furniture and trees.