Get Your Dog Dressed up for Halloween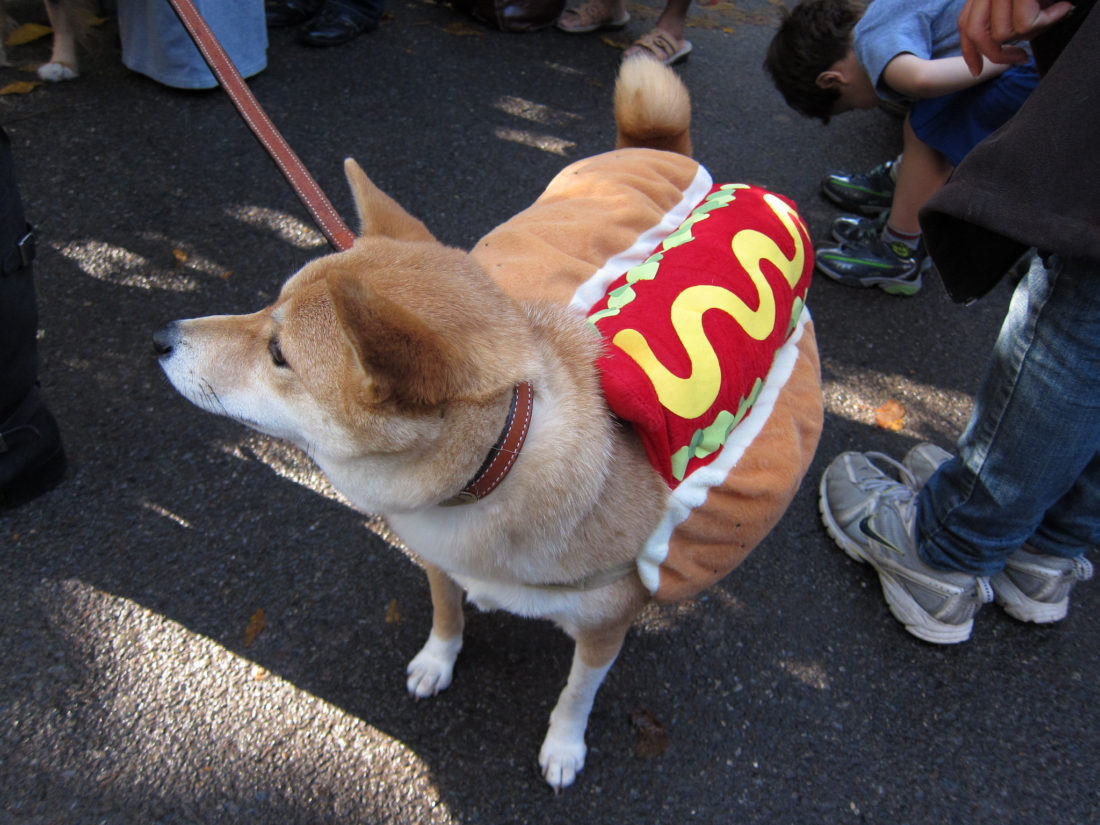 Halloween is only a couple of months away, so now is the time to start thinking about the different dog costumes you could dress her or him in. There are lots of different options, from full costumes to simple bandanas. So what are some of the coolest things out there right now?
Cool Hot Dog Costumes for Halloween and Other Celebrations
The hot dog costume, which is made of foam and makes your dog look like they are the sausage. You won't be surprised that this costume, complete with mustard and ketchup, is particularly popular for the sausage dog.

The bumble bee costume, which only really requires a cape around the neck, perfect for those dogs that don't appreciate the art of dressing up! Get a yellow piece of fabric for the cape and attach some black felt strips through it, and you're done.

The boom box dog costume, which you can also make yourself if you are quite artistic. You will need a cardboard box made to look like a boom box. Do be aware that if your dog lies down once, the costume might get ruined. Luckily, you can also purchase them, which means they are a lot sturdier.

The pretty princess costume, with lots of pinks, whites, and glitter. Inside every female dog is a beautiful princess waiting to come out.

The cowboy dog costume, great for dogs that really don't want to dress up as all you really need is a bandana. If your dog is a bit more receptive to costumes, then you might want to add a hat, and perhaps a gun belt.

The superhero dog costume, whereby you can also express your personal love for a certain superhero character. That said, the Superman costume tends to be one of the more popular dog costumes, despite the fact that Superman himself is not one of the most popular superheroes out there.

The Robin Hood dog costume, which is proving to be a particularly popular one this year. It appears that the global political climate of the rich getting richer and the poor getting poorer has had an impact on how people dress up their dogs, hoping that a cute four-legged animal will bring about more equality in the world.

The doctor dog costume, whereby your dog will be dressed up in a white lab coat, complete with stethoscope around their neck.

The lady bug dog costume, which is particularly cute on little dogs and on puppies. There is no insect on this planet that is quite as cute as the lady bug, and small dogs are perfect at personifying this.

The ballerina costume, which is a particular favorite among celebrities, whereby the dog essentially wears a tutu. Make sure that the tutu is not too big for the dog, however.
Dressing up your dog is a lot of fun and really makes her or him feel like part of the family. Do remember that safety must come first, so don't leave your dog unattended while wearing a costume.
Photo by petsadviser-pix on Flickr