What to Expect from the iPhone in 2018
When the iPhone 7 successfully launched in 2016, all heads turned to Apple. Those heads will turn again as the company rolls out its next generation of new iPhones scheduled to release in early 2018. Rumors mention three new phones: the iPhone 7S, 7S Plus, and a third model fondly called the iPhone 8 or perhaps iPhone X, the Roman number for 10, celebrating the iPhone's 10th anniversary.
You'll still find iPhone 7 deals and service plans from providers such as T-Mobile with its always available, nationwide 4G LTE network. Explore the following revolutionary features we can expect from the new Apple iPhone in 2018.
Innovative Design That Stands Up to the Competition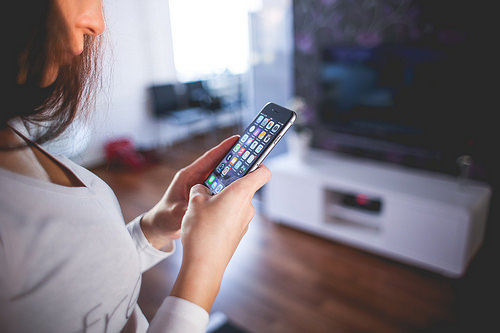 Image via Flickr by Sole Treadmill
Set to be the first to debut wireless charging, the future iPhone will have a curved OLED display similar in size to the iPhone 7. With an edge-to-edge display, however, the new phone will appears larger than it is.
The handset on the 2018 Apple iPhone will feature a new display. While Samsung was the first to introduce edge-to-edge displays, this innovative design from Apple looks impressive. The 2018 iPhone will see an A11 processor, possibly the most potent powerhouse that Apple has released to date.
OLED Screens and Display Capabilities
Apple will release its new 2018 iPhones with organic light-emitting diode (OLED) screen technology, incorporating a wraparound display in a curved glass body shell. The iPhone 7 and earlier models all relied on liquid crystal display (LCD) technology. While more costly, OLED screens produce brighter colors, deeper blacks, and better viewing angles in a thinner, more flexible screen, potentially reducing cracks and breakage.
The new iPhone's display resolution may be 1920 by 1310 pixels, and the physical home key will go away with a new button embedded under the display glass. According to a report in the Daily Star, a newly emerged patent filed by Apple implies that the company is working on a flexible display that is movable and can be folded and unfolded. The innovative phone will be a reality sometime in the future.
Facial Recognition Technology
Apple is always working on improved data security, and 2018 iPhones will see the Touch ID built into the display or possibly removed altogether and replaced by advanced facial recognition technology.
Powered by a 3D sensor, Apple's camera captures more data points than a fingerprint scan, making it more secure than Touch ID. The Samsung Galaxy S8 uses a similar technology; however, simple 2D photos can easily evade their security. Apple's solution is more secure with its 3D depth perception. Still in the testing phase, it's unclear if the 2018 iPhone release will do away with Touch ID found on the iPhone 7.
New Augmented-Reality Capabilities
Augmented reality (AR) could be the new iPhone's best feature with the potential to transform the world by layering digital information over reality.
When Apple built an AR platform directly into iOS 11, this innovation offered developers the ARKit, a suite of tools to program augmented reality apps for future iPhones. It will be some time before we see the ARKit's full potential; however, Apple released an AR demo entitled Star Wars HoloChess, a game that allowed you to digitally move characters around a holographic chess board. Apple fans received this feature well.
Long-Range Wireless Charging
Apple has filed dozens of patents for inductive charging, so the 2018 iPhone release will likely feature induction-based wireless charging like the Apple Watch. While the feature is nice, it's not exactly earth shattering. In February 2017, Apple joined the Wireless Power Consortium (WPC), a multinational technology group that's developing Qi wireless charging standards. Widely used in devices such as the Samsung Galaxy 8, the 2018 iPhone may include a WPC-based Qi wireless charger that gets enabled through an optional accessory you can buy with your new iPhone.
Innovative as always, 2018 is sure to usher in a new era of Apple iPhones. With many exciting possibilities of what to expect from the iPhone next year, you can be sure the world will await the phone's release.