4 Ways Industrial Cleaning Equipment Can Improve Your Business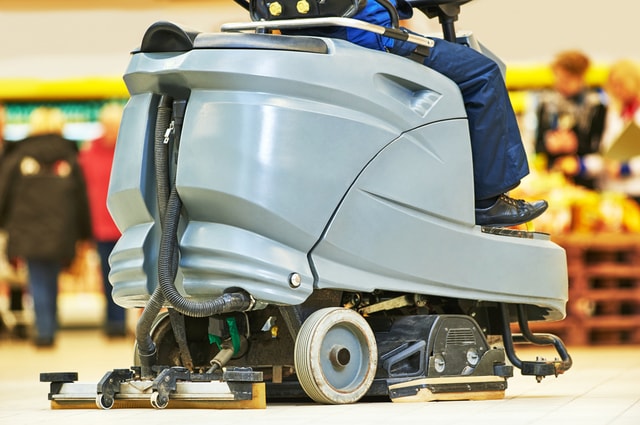 While business is mostly focused on products or services, every business premises needs to be kept clean. This is especially vital if your business operates in the food and beverage industry, but even if it doesn't, you need to clean regularly and clean efficiently.
In this article, we'll be taking a look at some key reasons why you should employ the use of industrial cleaning equipment, such as floor cleaners, and how they can have a positive impact on your business. 
#1 – You'll Save Valuable Time
No matter what needs to be cleaned on your premises, employing the use of industrial cleaning equipment will no doubt save you valuable time. This is particularly important if your employees are the ones tasked with the cleaning duties. Ultimately, you want your workers focused on whatever it is they need to do to propel your business forward. Now, while cleaning is something that has to be done, the least amount of time taken up performing cleaning duties, the more productive your workforce will be.
As an example of how professional equipment can make short work of cleaning tasks, let's say your business has a very large floor space. To sweep and mop vast floor areas can consume copious amounts of time. However, if you were to buy or hire an industrial floor cleaning machine, such as a floor scrubber, floor cleaning will be accomplished in a fraction of the time. Whether you choose a walk-behind model or the ride-on variety, it'll make short work of the cleaning process and ensure your floors are always looking their sparkling best. 
#2 – Commercial Cleaning Equipment Saves Your Business Money
Again, if it's your employees doing the cleaning, the faster they can get their cleaning chores done, the better it will be for your business's bottom line. After all, you're paying them wages to perform business tasks, and a cleaning doesn't exactly further your business goals or operations. The quicker they can return to commercially-related tasks, the better.
It doesn't matter whether you decide to purchase or hire the cleaning equipment. The cost is a tax write-off, and the amount of time this equipment saves your staff equates to money back into the business.
From a financial perspective, using industrial-strength cleaning equipment simply makes logical sense, so there's no need to shy away from any expenses incurred. 
#3 – A Clean Business Premises Creates a Positive First Impression
The cleaner and more organised your business looks, the more positive an impact the aesthetics will have on new customers. We all know that first impressions count, so offering up an untidy environment is not exactly going to keep the customers coming back for more.
Employing commercial cleaning equipment in getting your place spic and span is vital to developing positive and lasting relationships with clients and customers, the lifeblood of any business.
People naturally feel more confident dealing with a business that appears to have it together, and a clean and tidy business premise certainly creates this impression. Do everything you can to impress that first time customer so they become a repeat customer and recommend you to the people they know. 
#4 – Commercial Cleaners Could Be a Cost-Effective Solution
If you have the budget for it, don't wish to purchase or hire industrial cleaning equipment, or don't want the time of your staff tied up in cleaning duties, then it might be a wise choice to call in the services of a commercial cleaning company to handle this aspect of business for you.
Commercial cleaners will have their own insurance for starters. Plus, they'll have all the necessary equipment, cleaning products, and chemicals to get the job done efficiently and in a very quick time. They've already made the investment in equipment and experience. All you have to do is pay them to clean your business premises. Simple.
Chances are, you'll find these cleaners do a much more thorough job than your staff would do, as it's their business to clean well. 
In Conclusion
Whether you hire professional cleaners or choose to do the cleaning yourself, industrial cleaning equipment makes light work of the task and produces much better results. It's a small investment compared to the advantages commercial cleaning equipment offers.