USMNT – Just a 'joke' after USA Women's World Cup triumph?
In the end, the rankings didn't lie. The top-ranked US Women's National Team (or USWNT) sauntered to yet another Women's World Cup triumph, further vindicating the stateside schemes in place to train the finest female footballers for generations to come.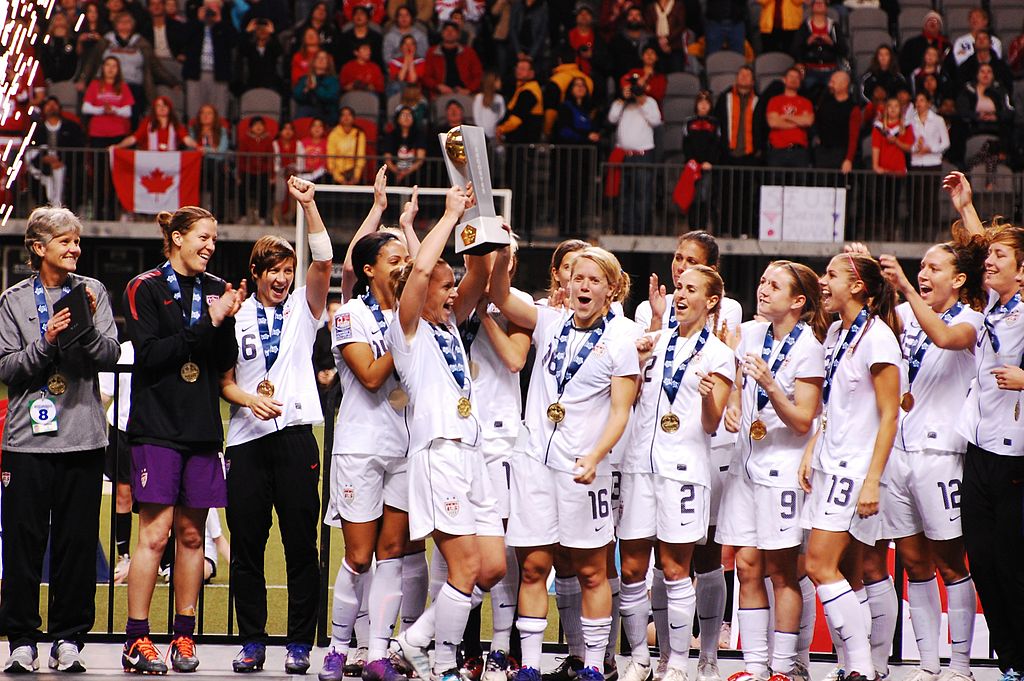 While the USWNT were professional throughout their tournament across the Atlantic, the men's team (USMNT) were busy falling short at their home-based Gold Cup, losing 1-0 to Mexico in the final with a very meek performance.
Is the Men's Team now a 'Joke' by Comparison?
Many Americans, even those still with only a passing interest in women's football, have compared those on the field at this summer's tournament with their more-celebrated male counterparts – and found themselves shocked at their findings.
The USMNT's weak climax to the Gold Cup came as no surprise to some, with the side waltzing through a weak group, and averaging just under 3.67 goals per game. They then edged past tiny Curacao 1-0 to reach another easy tie; a semi-final against Jamaica that also seemed like a mere formality.
On the evidence of Mexico's own semi-final performance, in which 'El Tri' only just scraped past Haiti 1-0 in extra time, the USMNT could have easily overturned their status as slight outsiders and won the honours. What ensued, however, was a tight affair which always hinged on a single goal from the start.
By contrast, the USWNT approached their own final in bullish mode, knowing full well that even going a goal down to the Netherlands was unlikely to be the end of their hopes. This feeling was justified, with the USWNT seeing off very strong sides in the form of Sweden, England and even hosts France in preceding rounds.
When compared to the calibre of opposition the USMNT faced in the Gold Cup, it stands to reason that the women's national team are currently far more respected than their male counterparts are ever likely to be.
A History of Success is Also Vital
A national team's success, or lack of it, is deeply rooted in tradition. For that reason, the present-day USMNT is as much a victim of historical circumstance as it is under its own inherent shortcomings.
These days, the likes of Brazil, Argentina, France, Italy and Germany consistently enjoy runs to the quarter-final of World Cups and beyond, and those that check out check out football betting outrights for the 2022 World Cup will see them at the top of the fixed betting long list when it is live.
Between them, those five standout nations have won the World Cup a total of 17 times, and their abundance of skill has seemingly placed international success for the USMNT out of reach forever.
It is fair to say that success in football has never really been high on the United States' agenda, especially with football being the lifeblood of European sporting culture for as long as anyone can remember. Even so, there have been opportunities for the USMNT to become part of international football's illuminati in the past.
Way back in 1930, the inaugural World Cup was held in Uruguay. Only thirteen teams participated, with the USMNT being one of them. They were the surprise package of that tournament, despite being seen as massive underdogs, with Bert Patenaude scoring the first-ever World Cup hat-trick. En-route to their third-place finish, they beat respected opponents in the form of Belgium, Paraguay and France – all by a resounding 3-0 scoreline.
War or no war incoming, this should have been the USMNT's cue to take its football talent development agenda to the next level. However, performances would worsen thereafter, and not even a shock 1-0 victory over England in 1950 could reignite the USMNT's fortunes.
There followed a very forgettable 40-year period, but in 1991, the inaugural Women's World Cup offered a new lease of life to America's forgotten game.
While the Women's World Cup has seen decidedly less expansion over time, the USWNT also made their World Cup debut in the face of European powerhouses, such as Sweden, Norway and Germany. They delivered from the outset, but unlike their male counterparts 61 years previously, they went all the way, and their current dominance of the international scene proves, without doubt, that a team can only build for the future upon the strengths of its past.
Ultimately, while people point to a 32-team World Cup (about to expand to 48) as the reason behind the USMNT's failings, and the passing of Title IX in 1972 as a fillip to the USWNT, the fact remains that the USMNT entered the international scene when there was relatively little competition.
Unlike the women, they failed to capitalise, and subsequently, it seems as though there is now no chance of a CONCACAF nation ever reaching a men's World Cup final in the modern era.
Where do the two Gender Groups go from Here?
The men's team has seemingly one final chance of redemption, and that will come seven years from now, with the United 2026 World Cup being held across North America's three largest nations.
With a World Cup triumph on any other continent nigh-unthinkable, this will be the USMNT's one shot to do what they failed to do in 1930, 1950 – and later 2002 and 2010 – and build upon a solid World Cup campaign.
Meanwhile, the USWNT deserves to bask in glory for now. Funding for the female game will only increase, and be utilised in ever more refined ways, and the only potential enemy now is complacency.